Greens think globally, run locally: Green Party 2021 election year-in-review
Originally published on the GP Elections database.
At least 113 Greens in 18 states ran for public office in 2021. Among them, seven ran for state and federal office – four in regular elections in New Jersey, one in a Pennsylvania special election and two in the California gubernatorial recall.
But with regular state and federal offices almost exclusively held in even-numbered years in all states except New Jersey and Virginia, most Greens focused on running in local elections in 2021, with an emphasis on social justice and the environment.
Of the 106 Greens who ran for municipal and county office in 2021, 52 were elected (49.1%). Among them were ten for city council, 12 for school board, and a mayor and a community college board member. Seven more were elected to fire protection districts (2), library boards (2), a water board (1), sewer board (1) and health district (1). In Pennsylvania a sitting township supervisor who wasn't Green when elected in 2019, joined the Green Party in August 21 while in office.
By the end of 2021, at least 133 Greens hold office in 18 states across the United States.
Maine Success
Perhaps the greatest Green electoral success story of 2021 was in Maine. Green Party members Anna Trevorrow and Scott Harriman won city council races in Portland and Lewiston, the state's first- and second-most populous cities (66,000 and 37,000) respectively; while another 17 Greens were elected in smaller towns around the state.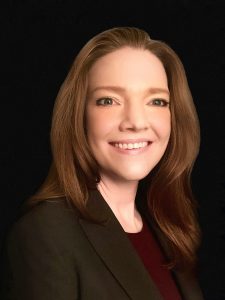 Trevorrow ran while holding an elected seat on Portland's school board — a seat she won in 2013, 2016 and 2019, where she built up valuable name recognition and a record that she can govern. Before that Trevorrow served on the City's 2009-2010 Charter Review Commission, where she successfully advocated for inclusion of ranked choice voting in the City's new charter.
In running for city council i 2021, Trevorrow promoted prioritizing socio-economic diversity, pushing for a range of pro-housing policies such as inclusionary housing zoning and incentives for low-income housing, and addressing homelessness. In the process she won with 56.3% of the vote, defeating an opponent backed by local business, developer and real estate and property management firms interests.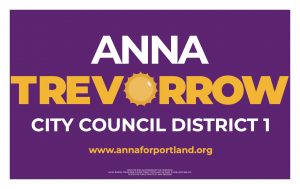 Even though Portland municipal elections are non-partisan, establishment forces lined up against her and tried to portray her progressive, Green values as 'divisive'.
But voters didn't feel that way when they met her.
Trevorrow credited her win in part to a strong ground-campaign, "in which I had 837 conversations with voters, promoting a vision for Portland that is accessible to the working class and enacts policy through an equity lens." Arguably Portland's 'second party', since 2001 local Greens have won two state house, eight city council,13 school board, two water board and a charter commission seat in the city.

In Lewiston, Harriman was elected on a platform of supporting fully-funded public schools, equity in education and environmental health. Like Trevorrow, he empathized the need to expand safe and affordable housing options. "Rents have increased dramatically, yet too many people are still living in poorly-maintained properties," he said during the campaign, "which, among other things, impacts kids' ability to learn."
Overall Maine Greens won 19/23 races statewide in 2021, including six of nine for select board (what city councils are called in small towns in Maine) and 11 out of 12 race for school board. Currently at least 48 Maine Greens hold local elected office across the state. In a state with 43,000 registered Greens and over 300 small towns and villages with local government bodies, Maine presents one of the best opportunities for Greens to win local elections and gain governing experience. In turn many of these local officeholders are potential future Green candidates for higher office.
A Green Mayor
The highest office a U.S. Green was elected to in 2021 came in Illinois – Peter Schwartzman for Mayor of Galesburg (population 30,000).
A Knox College Environmental Studies Professor and a three-time elected city council member in Galesburg (2011, 2015 and 2019), Schwartzman had built a record in local office and in the community promoting the connection between environment and the economy.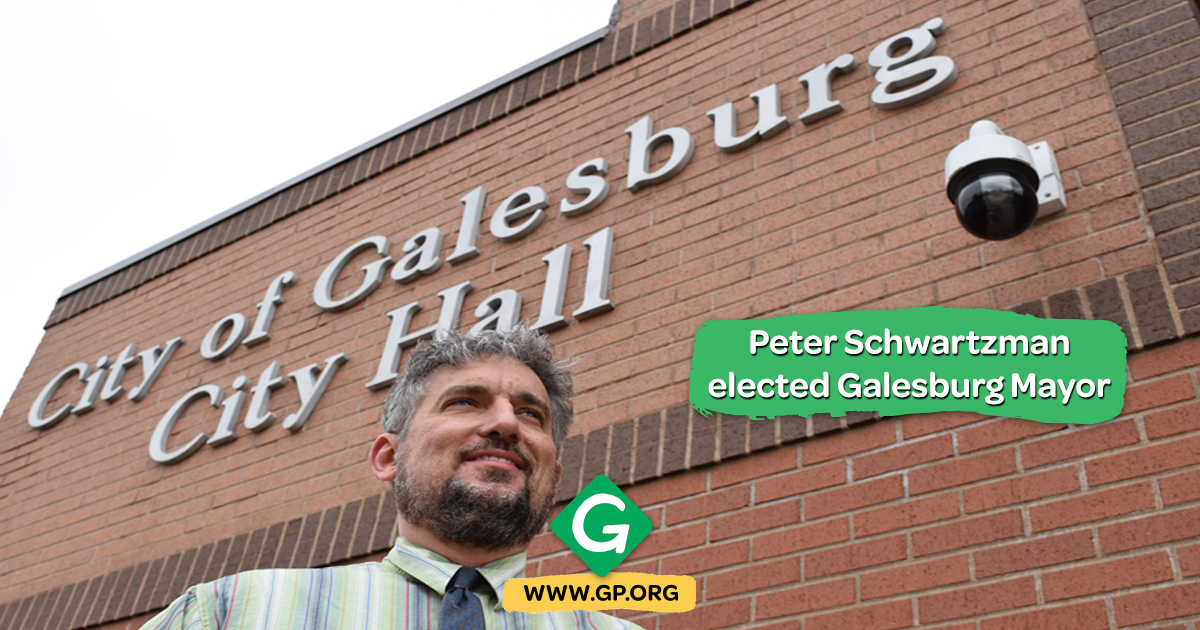 Despite being the only Green/progressive member of the city council, Schwartzman had already persuaded colleagues to support several eco-policies by illustrating the cost saving. For example, Galesburg's municipal water supply is now pumped to the city largely with solar power generated by a solar array put into place by the City in 2020. Since the water is sourced from 30 miles away, reducing energy costs via solar power has been significant.
The City Council also approved a series of community aggregation contracts over the last several years to purchase 100% renewable energy at low negotiated rates for all residents. Most recently, the Council authorized a $50,000 tree-planting pilot project to beautify the city, reduce water runoff and reduce storm water management infrastructure costs.
Schwartzman campaigned to continue and expand this eco-approach as mayor, including by promoting local economic development in the renewable energy and urban agriculture sectors, taking advantage of abandoned lots and repurposing buildings in the city. He also argued for an energy audit of city facilities & improving local bus service via longer hours and quicker routes.
But for Schwartzman, who teaches Environmental Racism, an eco-approach goes beyond green economics to confronting environmental racism. "Communities throughout the US suffer from racism and environmental racism is one component of that. During my time on the Council (and now as Mayor), I've tried to emphasize the needs of all residents. Given clearly visible inequalities geographically in housing stock and other city amenities, I've supported investing in certain "blighted" neighborhoods — through park improvements, business grants and activation of ideas from our Community Relations Commission. I'm now very actively seeking support to fund a very ambitious Community Center near the center of Galesburg that will promote civic engagement, youth activities, inter-generational contact/communication, and education/training.
In addition to supporting local youth , Schwartzman also emphasized a safer community and greater transparency in local government – values he felt people embraced across political lines.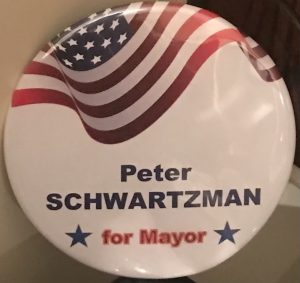 With his campaign occurring during a pandemic, Schwartzman walked door-to-door 38 straight days. He wore a mask and socially distanced, but also wore a large button saying 'Peter Schwartzman for Mayor' that residents could see at a distance when they opened the door to greet him.
Schwartzman also did weekly Zoom video conferences on a different issue each week, giving residents another way to directly connect to hiscampaign. The incumbent mayor who finished second behind Schwartzman in a three-way race (40.3% to 46.95%) did neither, suggesting the importance of Schwartzman's grassroots campaigning in a competitive race.
What are Schwartzman as Mayor prospects working with the new city council? In the same April 2021 election as Schwartzman, two new city council members were also elected , replacing more conservative old-guard members. With Schwartzman's own city council seat opening up upon his election as mayor, under Illinois statute 65 ILCS 5/3.1-10-50(f), as mayor he has the power to fill vacancies by appointment. A second unscheduled council vacancy also occurred soon afterward, when another member resigned. In filling these seats, increasing diversity on the council was a key for Schwartzma. He replaced himself with a younger woman, then replaced the resigning white woman with a second African-American council member, making two African-Americans (out of seven) for the city' first time.

With his as election a mayor Schwartzman, a long time member of the Illinois Green Party, joins Bruce Delgado, six-time elected Mayor of Marina (Monterey County) in Central California, as one of two current sitting Green Mayors in the U.S. Together they are among 32 directly elected Green mayors in U.S. Green history.
The first Green mayor was Kelly Weaverling in Cordova, Alaska in 1991, who ran after being one of the local leaders in the effort to clean up environmental damage from the massive 1989 Exxon Valdez oil spill.
City Council
Of the ten Greens elected to city councils in 2021, Brian Benford was elected in the most populous city in which a U.S. Green currently holds a city council seat — Madison, Wisconsin, (population 270,000.) Benford earlier served two terms on the Common Council (which is what the city council is called in Madison) between 2003-2007, when he was the only African-American on the 20-member body. In 2021, he was part of an unprecedented wave of people of color running for the Common Council, a movement he was part of.
As a long time social justice community activist, Benford sought to be a voice on the Common Council for the most vulnerable and marginalized. "I decided to run when I recognized the tremendous need that's out there in our community that I've seen in my 30 years of experience in trying to serve children and their parents and their families in Madison. I'm on the front lines and I'm seeing people who don't know where their next check is coming from or how they're going to put food on the table. People are worried about their kids' education or their health care or housing insecurity. I'm seeing this every day now more than ever."
He expanded upon this in a candidate questionnaire from the Cap Times newspaper, Madison's paper of record. "We live in a city that has horrendous racial disparities within education, our criminal justice system, income, housing attainment, employment and other opportunities to reach our full potential. Long before the pandemic, Madison has played out as a tale of two cities. One, where people with privilege can thrive, and another that is cruel, uncaring and harsh for far too many vulnerable neighbors."
Benford's approach to these challenges? Creating sustainable, "real" affordable housing and living wage jobs, confronting gentrification and rethinking public safety. Benford also supported a guaranteed income for Madison residents. In June 2021, Madison convened a Guaranteed Income Pilot Program Task Force to explore doing just that.
Nationwide Greens hold 42 city council-type seats in 11 states – the most for any type of office U.S. Greens hold. Similar in terms of function, these offices go by various names depending upon the location, including Board of Alderman, City Council, Town Council, Common Council, Borough Council, Village Trustee, Village Board, Township Supervisor and Select Board.
School Board
For school board, 12 of 18 Greens who ran were elected, including 11 of 12 in Maine — and the one in Maine who was not elected was later appointed to a subsequent board vacancy. Maine school board wins came in seven counties – one each in Androscoggin, Cumberland, Oxford, Penobscot and Piscataquis counties and two each in Lincoln and Somerset counties. The other elected U.S. Green school board member was first-time Pennsylvania Green candidate Matthew Reitenauer — elected on a platform of 'greening' the school district — to the Brandywine Heights School Board in Topton, a borough of about 2,000 in Berks County in the south-eastern part of the state:
"If elected, I would like to see three community gardens, one at each of our schools. Then the students and locals can start eating healthier. I'd like to start an after-school recycling club to clean up the school yard and to clean up the community. I'd like to see more organic foods offered at lunch to the children. I want to look into renewable energy for the school district, the more solar panels the better. I'd also like to look into electric buses to cut down on emissions to help with the climate crisis."
Currently 34 U.S. Greens hold seats on local school boards in CA, DE, ME, MI and PA – the second most for any type of office in the country Greens hold.
In north east Maine, the election of Robert Lindblom to one of three Solon representative seats on the Regional School Unit #74 School Board in Somerset county means three Greens now serve there on the 15-member school board (three board members are elected from each of five local small towns forming the school district). Lindholm joins fellow Greens Kevin Souza, from Emden (elected in 2016 and 2019) and Deron Whittemore, also from Solon (elected in 2019), who currently also serves as co-chair.
Only three other times in U.S. Green history have there been at least three Greens on a school board. Between 2006-2007 four Greens served on the nine-member Portland, Maine School Board (Susan Hopkins, Ben Meiklejohn, Rebecca Minnik and Jason Toothaker); and between 2004-2006 three did (Meiklejohn, Stephen Spring and Toothaker). The first time at least three Greens served on a school board was between 2002-2006, when Greens Cindy Foxfoot, DeOnne Noel and Sandra Ventura Scott served on the five-member Twin Ridges Elementary School Board (K-8) in the Sierra Nevada Foothills of rural Nevada County in Northern California, making up the first and only ever Green school board majority in the U.S.
Voters trust Greens on financial management
Eight Greens ran for various taxation and finance boards in 2021 in Connecticut, Minnesota and Pennsylvania, with five elected.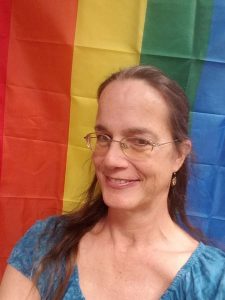 In Connecticut Green Party state co-chair Cassandra Martineau and fellow Green Charlie Krich were elected to the newly formed "Willimantic Taxing District Board of Directors" in the town of Windham. They will be two of six Directors (four Democrats, two Greens) controlling an $11 million city services budget, including fire & police.
As part of the nationwide movement to reimagine public safety, Martineau plans to initiate discussions about removing the police officer from Windham High School and against having an armored vehicle in a town the size of Windham (pop. 24,000) – including voicing concern about disproportionate use against local communities of color.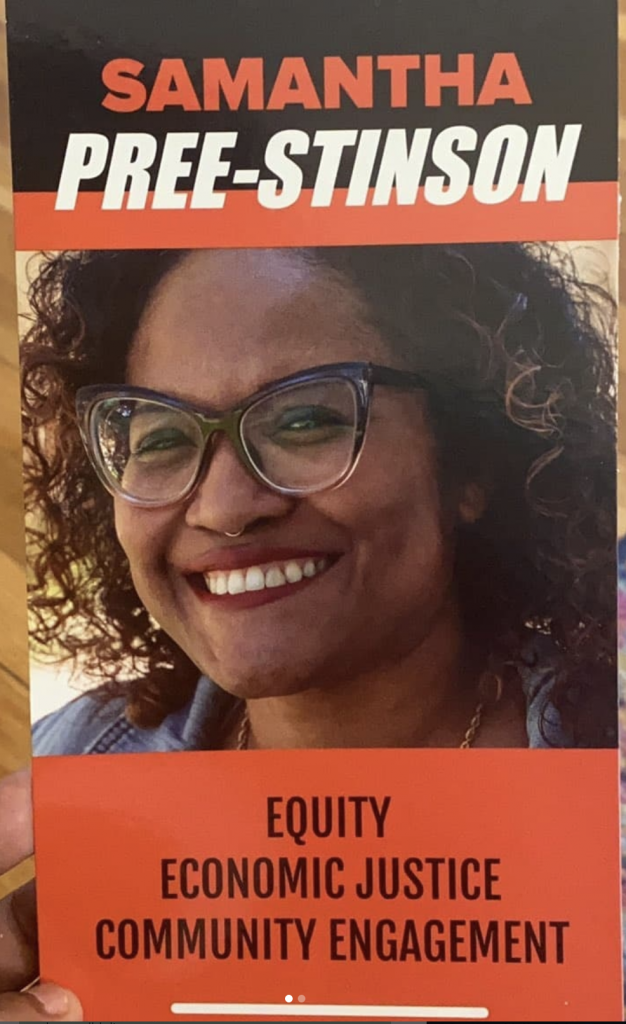 Perhaps the biggest highlight of taxation and financial management candidates was in Minneapolis, Minnesota where former state Green Party chair Samantha Pree-Stinson was elected to one of two seats on the City's Board of Estimation & Taxation, in a citywide ranked-choice voting election. In the process, she became the first Black Woman ever elected to the Board, which coordinates various taxing and borrowing powers and sets local rates for the City. Pree-Stinson now holds office in the most populous city of any U.S. Green (population 430,000).
Seeing an opportunity to emphasize social justice in tax policy, Pree-Stinson ran on a 'Equity, Economic Justice and Community Engagement' platform. "Our taxes are the foundation of our budget; and our budget defines our priorities, values and commitment to our city," stated her campaign website. Cognizant of how tax policy can affect gentrification and displacement, Pree-Stinson called out that "Our decisions affect our ability to fund our communities so we can build generational health and wealth." While supporting local small business, Pree-Stinson also expressed concern that larger corporations often seek tax exemptions and public subsidies at the same time they don't pay their workers a living wage.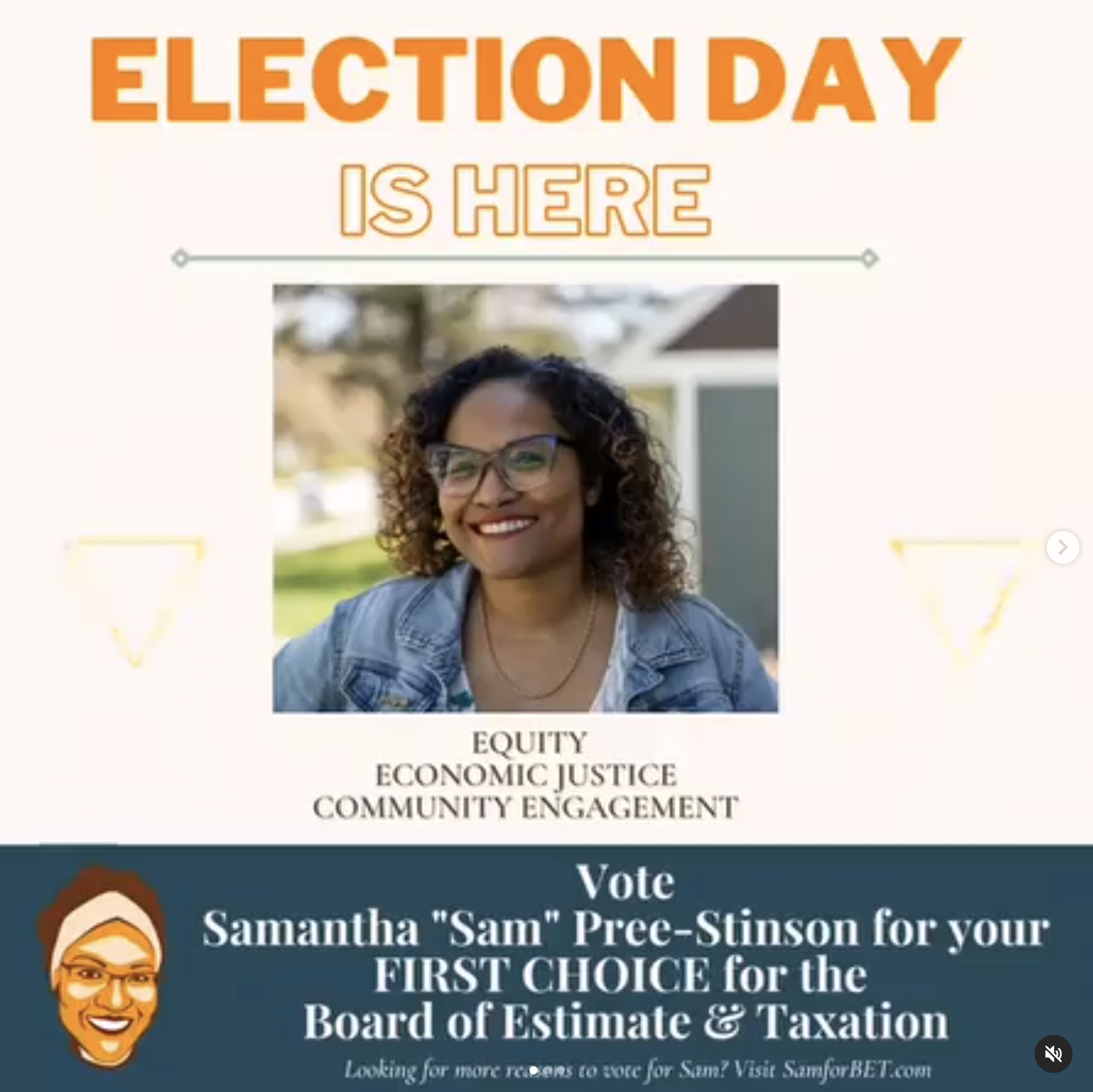 A Los Angeles native who settled in North East Minneapolis in the late 1990s, Pree-Stinson was ten years old when the 1992 Los Angeles riots/uprising occurred, after a jury acquitted four officers of the Los Angeles Police Department charged with using excessive force in the arrest and beating of African-American Rodney King. For Pree-Stinson, it was a defining moment in her understanding of systemic racism. Today she looks up to Shirley Chisholm, Harriet Tubman, Sojourner Truth – "all Black revolutionaries that led us to freedom" as she describes them.
Long Green history in Minneapolis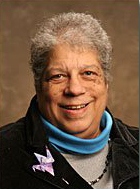 Pree-Stinson's victory also means Greens will have now held at least one elected office in the City of Minneapolis since 1994, when then Parks and Recreation Commissioner Annie Young joined the Green Party. First elected to the Parks and Recreation Commission in 1989 as a Democrat and re-elected in 1993, Young changed her party membership to Green before taking office in 1994. She was subsequently elected to five consecutive citywide four-year terms as a Green, making her the only Green in U.S. history to win five, four-year term elections. (Young passed away in 2018.)
Over the years Young was joined as a Green in office in by Minneapolis city council members Nathalie Johnson-Lee (2001-2005), Dean Zimmerman (2001-2005) and Cam Gordon (2005-2021). Then in 2017 LaTrisha Vetaw succeeded Young on the Parks and Recreation Commission and served while a Green Party member on the Commission until January 2020, when she changed party affiliation to run as a Democrat for city council.
By the end of Stinson's new four-year term, it will be 31 straight years with a Green holding a publicly elected position in Minneapolis – the second longest streak in U.S. Green history. In Superior County, WI a least one Green held a seat on the County Board of Supervisors there for 32 years, between 1986 and 2018.
More than three quarters of incumbents returned to office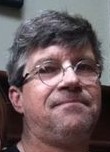 Nineteen of 25 Green incumbents were re-elected in 2021, the longest-serving being Leif Smith, a Constable in Redding, Connecticut. A self-employed carpenter, theater designer, and musician, Smith was first elected in 2007 as a write-in candidate. He has been on the ballot and elected every two years since, winning eight times. What is a Constable? A small local office in the state, a Constable in Connecticut has the same duties within the boundaries of a town, as a State Marshal: serving legal papers to the people named in a lawsuit.
Among other Green incumbents, six of ten for city council were re-elected in small towns in 2021 in CT, ME and NY.
Most Greens Elected Per State, County, City
The most Greens elected in 2021 per-state were ME (19), PA (8), CA (7), CT (6), OR (4), IL (2), MA (2), NY (2), MN (1) and WI (1).
The county with the most Greens elected was five in Cumberland County, ME (population 309,000). The city with the most was five in the aforementioned Windham, CT (population 24,000).
Cam Gordon
Among all 2021 Green election results, perhaps most significant was the Green incumbent not elected: four-term Minneapolis City Council member Cam Gordon.
First elected to the City Council, Ward 2 in 2005, Gordon is the only U.S. Green to have won four consecutive four-year city council terms. As recently as 2017 he was uncontested when running for re-election. But in 2021 Gordon he faced two especially strong Democratic challengers: Yusra Arab on the right and Robin Wonsley Worlobah on the left — and was drastically outspent by both. All together this was enough in a close five-candidate race to keep Gordon from being elected to a fifth term.
On the left Wonsley Worlobah, a union organizer, was in general alignment with Gordon on a range of social, racial and economic justice issues. But she claimed she would be a harder fighter than Gordon. As a non-incumbent not yet burdened by the responsibilities of governing, Wonsley Worlobah was free to argue that Gordon had been too quick to compromise and spent too much time trying to find consensus. This was despite Gordon playing a widely acknowledged integral role on the City Council passing a series of progressive policies in previous years.
The two competed for several left-of-center endorsements. Wonsley Worlobah received Democratic Socialists of America (DSA) and Take Action MN, and Gordon received Our Revolution, Sierra Club and MN350. Wonsley Worlobah was also endorsed by Socialist Alternative, an endorsement Gordon did not seek. A member of both DSA and Socialist Alternative, Wonsley Worlobah made a point of saying she wanted to be the city's first Black Democratic Socialist City Council member.
Among organized labor, Gordon was endorsed by the SEIU (Service Employees International Union) Local 26, while Wonsley Worlobah received endorsement from the Minneapolis Federation of Teachers, Unite Here Local 17 and the St. Paul Federation of Educators. Arab — a Black Muslim immigrant from Somalia — was endorsed by Laborers International Union of North America (LIUNA) Minnesota and North Dakota, and by AFSCME Council 5. Both the Minneapolis Regional Labor Federation AFL-CIO and the Minnesota Nurses Association stayedd out of endorsing in the race.
The endorsements that Wonsley Worlobah received sent a message in Ward 2 that she had progressive credentials. In a Ward where the 2016 and 2020 Bernie Sanders presidential campaigns had been embraced by many, the socialist endorsements probably also led some to rank Wonsley Worlobah #1 and Gordon #2 in the ranked-choice voting election. In particular ,the DSA endorsement likely helped Wonsley Worlobah with recruiting new student voters at the University of Minnesota (U of M), which is within the Ward. Gordon also did extensive door-knocking and literature-dropping at U of M student housing and dorms on campus. But Wonsley Worlobah's campaign had paid canvassers, which Gordon did not, and Gordon did not utilize robo-calling and texting blasts, which Wonsley Worlobah did.
On his right flank, Gordon faced backlash for supporting a City charter amendment that got national attention, to replace the city's police department with a Department of Public Safety, "that employs a comprehensive public health approach to the delivery of functions by the Department of Public Safety". Gordon and four of his colleagues co-authored the Charter Amendment (Question #2) after the killing of George Floyd by Minneapolis Police in May 2020 and the ensuing "Summer of Racial Reckoning" that happened across the country.
Arab opposed the public safety measure and picked up some voters who might have supported Gordon on other issues, but not on this one. Citywide, Gordon was one of four incumbents who backed the public safety measure who were not re-elected, amidst a general rightward drift in the Minneapolis electorate. For her part, Arab was part of a well-coordinated counter effort of those aligned with the Mayor to oust progressive incumbents. She also supported Question #1, a successful ballot measure that will concentrate more power in the mayor's office compared to the city council, a measure that Gordon opposed. The Minneapolis Star-Tribune, the state's major newspaper, endorsed both Arab and the strong mayor ballot measure, and criticized Gordon for maintaining that power should rest more diffused with the City Council.
Ultimately in a ranked choice vote after the fourth and fifth-place finishers were eliminated and their votes redistributed, Gordon was third by 79 votes behind Wonsley Worlobah (2,879 to 2,870). Wonsley Worlobah herself trailed Arab by 357 votes. In the next round of counting ranked choice votes, Gordon's more generally progressive votes were transferred, putting Wonsley Worlobah over the top narrowly by 13 votes.

One can wonder what might have been different if the Public Safety Charter Amendment would have been allowed to have been placed on the November 2020 ballot as originally planned by the Minneapolis city council. At that time — coming on the heels of the murder of Floyd and the events of the summer of 2020 — and with a larger and more diverse voter turnout in conjunction with a presidential election, the reform may have passed. But the Minneapolis Charter Commission blocked action on the measure until 2021, meaning instead it was on the same ballot as Gordon in 2021 while still being a controversy, rather than being an already decided issue from the year before.
After the election Gordon wrote (in an E-Newsletter his office sent out to residents of his Ward) "I fear that in coming years, history will look back on Minneapolis at this moment as a place where the horrors of police violence were made shockingly plain, causing a worldwide reckoning with racism and police violence, but that Minneapolis then chose to leave that unjust system in place with no meaningful changes. I had hoped we would rise to this occasion, and it is sad to see that we did not."
On a positive note, a Rent Stabilization Charter Amendment (Question #3) Gordon authored did pass. That measure authorized the Council to either pass a rent stabilization ordinance on its own, or put one on a future ballot. Gordon has been highlighting this issue ever since his first bid for City Council in 2001, and on the Council ever since he was first elected in 2005.
Regarding the socialist vs. Green dynamic in Ward 2, one might wonder what might have been different if Minneapolis utilized multi-seat district elections to elect a somewhat larger city council instead of its 13 single-seat wards. Then Gordon and Wonsley Worlobah may have been on the same side, seeking to both win seats, instead of competing against each other in a zero-sum, winner-take-all contest. What does that say — and what should that say — about broader electoral reform strategy on the left?
As the only Green Party member for the last 16 years on the 13-member Minneapolis City Council — all others were DFL members (i.e. Democratic-Farmer-Labor Party, which is how the Democratic Party is known in Minnesota) — Gordon had already shown that Ward 2 was a place where one did not need the DFL endorsement to be elected. This made entering the Ward 2 race more attractive for Wonsley Worlobah, as she was unlikely to get DFL support with her more left-leaning stances.
The two more conservative DFL members Arab and fourth-place finisher Tom Anderson competed most heavily for the DFL support, with Arab falling three percentage points short of the needed 2/3 for Mineapolis DFL endorsement (Anderson received an 'endorse' and Arab an 'acceptable' rating from the Minnesota DFL Senior Caucus). But with ranked-choice voting in place, progressive and more conservative voters ultimately consolidated their support around one of two sides in what was effectively a dead heat between the two.
After the election Gordon – a founding member of the Green Party of Minnesota in 1994, wrote this open letter of thanks to the public. The Minneapolis City Council passed this resolution recognizing his accomplishments in office – and based it in the Green Party's Ten Key Values, something Gordon often referenced in his work. At the Green Party of the United States 2013 Annual National Meeting, Gordon organized his presentation about his council work around the Ten Key Values. Perhaps one of the great legacies of his work has been showing how the Green Party's Ten Key Values can be realized in public office and public policy.