By FinalCall.com News
Updated Aug 13, 2008, 02:58 pm
One-on-One with Green Party presidential candidate Cynthia McKinney
* McKinney for President 2008 (Official Campaign Website)
* Two women top Green Party presidential ticket (FCN, 08-07-2008)
(FinalCall.com) – An outspoken critic of the Iraq War who frequently challenged many of the Bush administrationís policies, Cynthia McKinney has always been a courageous advocate for the people. Having served six terms representing Georgiaís 4th Congressional District, she is well aware of the inner workings of the corridors of power in Washington D.C. and she seeks to change it.
Cynthia McKinney with V.P. running mate Rosa Clemente. Photo: Kenneth MuhammadThe reason that I am no longer a Democrat is because the leadership of the Democratic Party has pressed the Democratic Party in ways that are not consistent, nor reflective any longer of my values.
The Green Partyís nominee for president of the United States sat down with the Final Callís Assistant Editor, Ashahed M. Muhammad to talk about her candidacy, her reasons for leaving the Democratic Party and her approach to foreign policy specifically relating to Africa.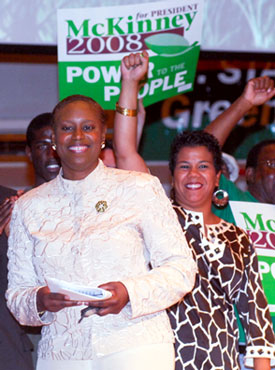 Cynthia McKinney with V.P. running mate Rosa Clemente. Photo: Kenneth Muhammad